A brand new way to understand your health
The Besanna scanner is the newest innovation in health and wellness.
Paired with our mobile app, the Besanna scanner helps you understand your body's unique state of wellness.
Fast
Scan results in under 15 seconds
Safe
During a scan, imperceptible electrical signals are introduced into your body. These signals ping over 350 acupoints, gathering valuable information about your current state of wellness. Scanning is safe for all humans and all pets.
Modular
The Besanna scanner's modular design makes switching between scanning a person or a pet as easy as turning a screw. We designed the longer pet sensors to be easily added or removed, depending on who is being scanned.
Smart
Built from the ground up using the latest innovations in mobile technology
Mobile
Boasting a 250 mAh battery, the Besanna scanner is designed for scanning almost anywhere and can last for over a week on a single charge.
Tour the App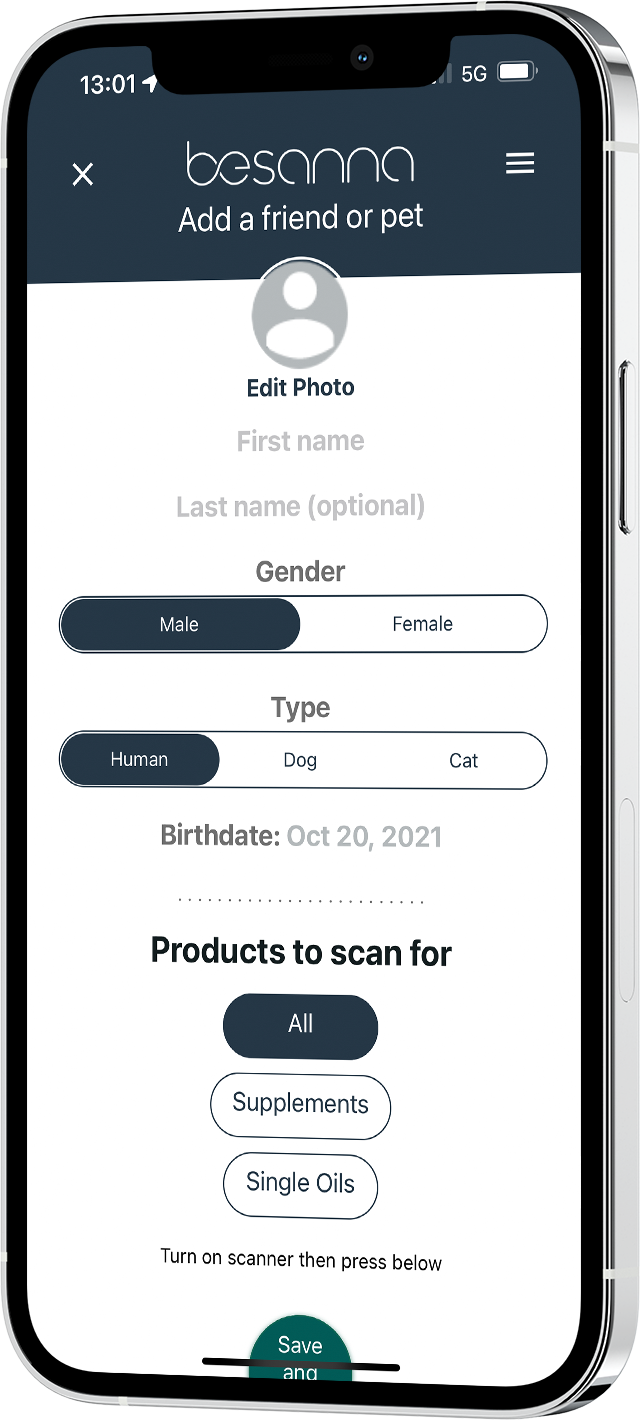 The Besanna app will give individualized results based on a personal profile. Start by adding a profile for yourself and use that profile each time you want to scan. When you're ready, add as many profiles for friends or family members as you'd like; you can even add pet profiles!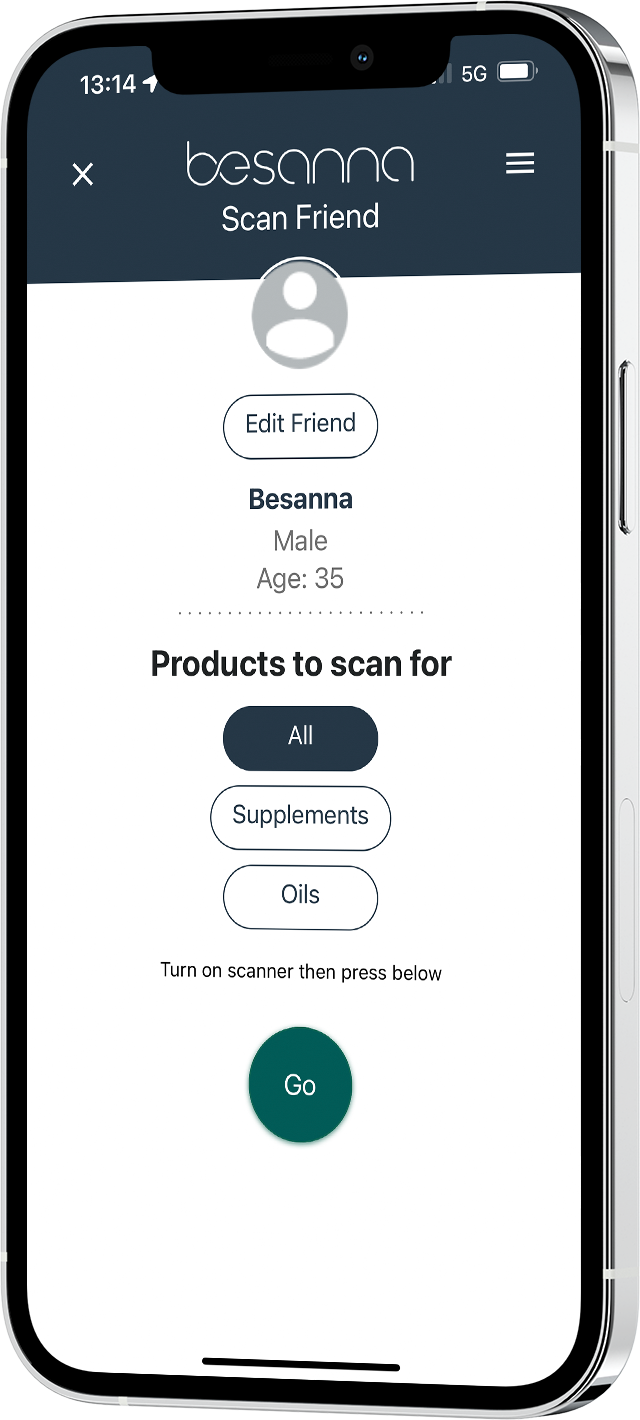 You have the option to scan for supplements—those essential vitamins and minerals that everyone needs—or essential oils. Or both!
Through years of research and testing, we've developed a database of vitamins & supplements, minerals, and essential oils that are not only safe and effective but also proven to help your state of health.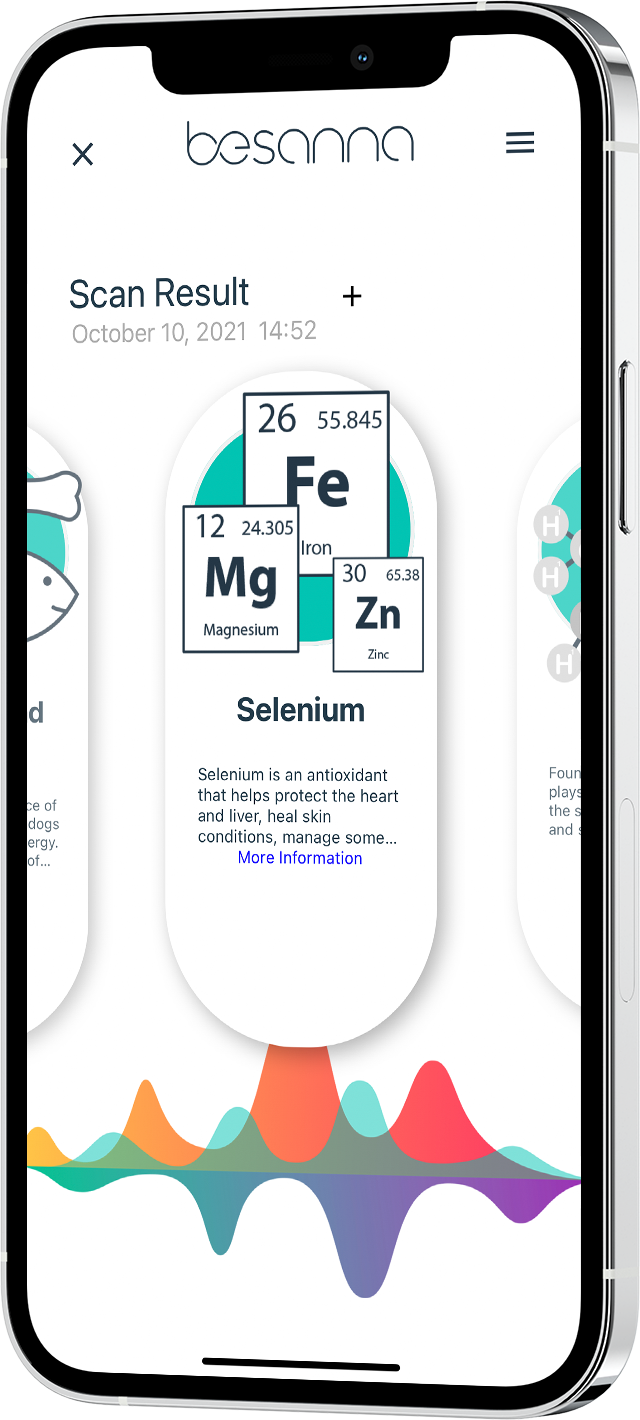 Within about 15 seconds, you will have a scan result that includes your personal nutritional recommendations.
These recommendations can include dietary items like protein to supplements and essential oils—things that you may not be getting from traditional food sources.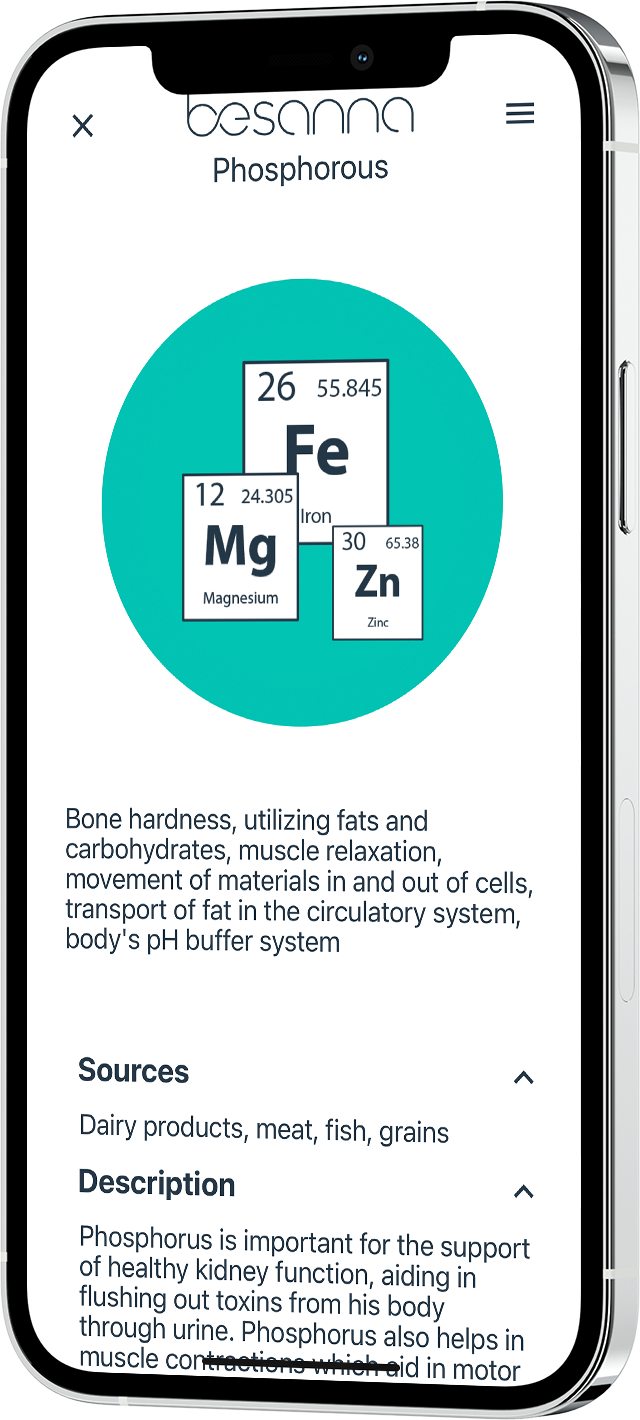 "Do I supplement or can I find what I'm looking for in foods that I already have in my fridge?"
We understand that supplementation isn't easy. That's why we've added a Sources section to the scan results. Now it's easier to make better decisions for your health.
More affordable than you think
Improving your health shouldn't break the bank. Our state-of-the-art scanner has subscription plans as low as $5 a month!*
We'll even ship your scanner for free!**
All subscription plans include:
Unlimited profiles for friends, family and pets

Full history of previous scan results

Basic and expanded information about each supplement, vitamin, mineral, and essential oil in our product library

Suggested alternative sources for each product

Dedicated scan results for humans, dogs, and cats

Free updates as we expand our library of products and add features to our mobile app
*Save on your subscription when you pre-pay.
**Free shipping applies to U.S. orders
Save big with a prepaid plan
All of our subscription plans have the same great features. The only thing that changes is how much you can save.
"Time freedom! Instead of my clients constantly coming to me for wellness advice, they use their own Besanna Scanner. I now have more time for my family and more time to introduce healthy living to others."
"I've never felt better! I love the real-time feedback and recommendations that help me balance my physical, emotional, and mental health! Thank you, Besanna."
"I've been scanning my dog, Rosco, daily. She is so much more happy and lively since I began giving her what the scanner recommends. Besanna has given Rosco a new leash on life!"
"The Besanna Scanner is like having a personal health coach for my whole family, kids, and furry kids alike."
"My personal wellness business has grown so much in so little time compared to the three years I've been stumbling around on my own."
"The Besanna scanner has taken the guesswork out of my oils business. The scan is fast and the results are easy to read and understand."